Andrew and Amy are a rare duo, technically outstanding and creatively energising. They care not just about getting you on film, but about why you're on film, what your character is doing moment to moment, why the scene exists.
It's not often you get all of those bases covered and engaged in by the same team and the playful, but professional environment reminds you of why you fell in love with acting in the first place.
Can't recommend highly enough.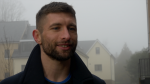 Chris Darwa